About MFD
ISO 1 Department
The City of Moore is proud to announce that the Moore Fire Department, in cooperation with the Water Department and Emergency Communications Center was awarded a Class 1 Public Protection Classification (PPC) rating by the Insurance Services Office (ISO). This is an accomplishment that less than 1% of the nation's Fire departments achieve and as of September 1, 2022, the Moore Fire Department is one of 8 departments in the state of Oklahoma to achieve the prestigious rating of 1.
ISO is an organization that independently evaluates fire-protection efforts in communities across the United States. ISO collects community information and analyzes the data using its Fire Suppression Rating Schedule. This Fire Suppression Rating Schedule evaluates four primary categories of fire suppression – fire department, emergency communications, water supply, and community risk reduction.  
Fifty percent of a community's overall score is based upon the fire department's structure fire suppression system and ability to minimize potential loss. Forty percent is based on the adequacy of the water supply system. Ten percent is based on how well the emergency communications center receives and dispatches fire alarms. Additional calculations take into consideration community risk reduction efforts such as fire prevention codes and enforcement, public fire safety education and fire investigation. 
Class 1 generally represents superior fire protection, and class 10 indicates that the area's fire-suppression program doesn't meet ISO's minimum standards. ISO's Public Protection Classification can play an important part in an insurer's decisions when underwriting property insurance. 
What does MFD's improved public protection classification mean for homeowners? While many insurance companies use the ISO Public Protection Classification System as a factor on residential and commercial insurance, not all insurance companies use the program. Contact your insurance company to make sure the improved protection classification rating is reflected on your policy, for any potential savings; savings will vary by company and other circumstances surrounding your policy.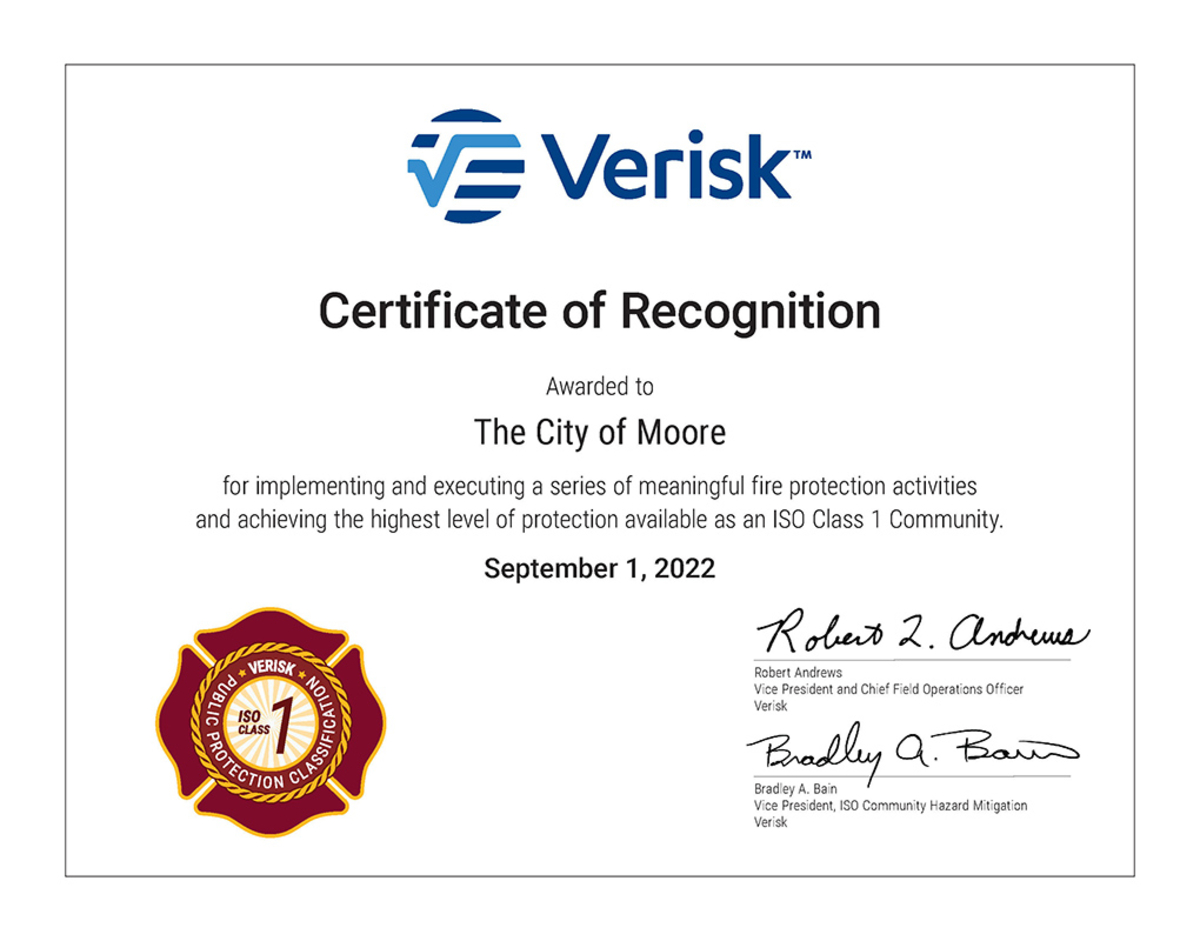 The Moore Fire Department was established in 1916 and currently serves the citizens of Moore with 4 strategically located stations overseeing 22 square miles. The MFD employs 73 fire service professionals and has grown with the construction of 3 relocated stations and administrative offices in 2011.
The Moore Fire Department is committed to providing the highest level of public safety service to our community. We protect lives and property with fire suppression, emergency medical services, disaster management and public fire prevention education.