Image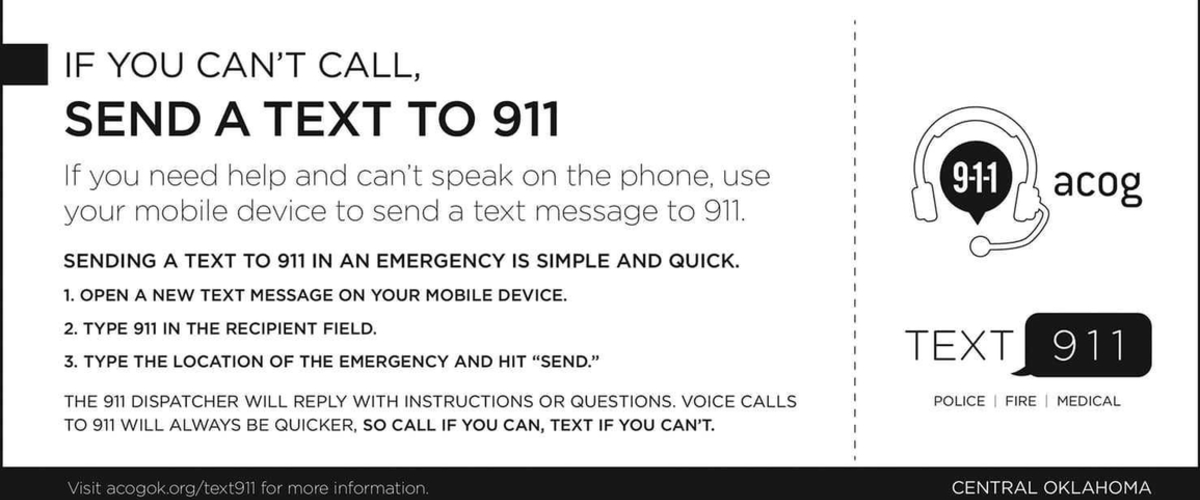 The City of Moore Dispatch Center can now receive Text to 911 messages.
The City of Moore Dispatch Center can now receive Text to 911 messages. Please refer to the information at the following link for further information:
Article for Texting to 911
Residents in several central Oklahoma counties can now send a text message to 911 to request emergency help, officials with Oklahoma City police and the Association of Central Oklahoma Governments announced Monday.
ACOG officials said they recently implemented the "Text to 911" service in four counties, including Oklahoma, Cleveland, Logan, and Canadian counties, to allow people in emergency situations to text dispatchers for help. The text service does not replace calling 911, but the option is intended for:
People with speech or hearing disabilities
Callers who need to remain silent or discreet
Medical emergencies that render the caller incapable of talking
How to request help with "Text to 911"
To request help via text, send a text to 911 with the location of the emergency. The 911 dispatcher will reply with instructions or questions. Do not text photos, videos, emojis or slang as the service cannot receive them.
Officials said the program has been live for several weeks in some areas, to ensure that the program is working correctly before it's presented to the public.
"Text to 911" Limitations
Traditional voice calls to 911 are still the fastest and most efficient way to receive emergency help, officials said. Texting to 911 should only be used when people are unable to call, so call if you can, text if you can't.
"Texts are limited to our facility to 160 characters. We do not receive emojis, videos or photographs at this time," Oklahoma City police 911 Communications Director Jamie O'Leary said.
O'Leary said they do not have translation services via text. So for those who don't speak English, she suggests that they text the address first.